Graph­ic By Shan­nan Albright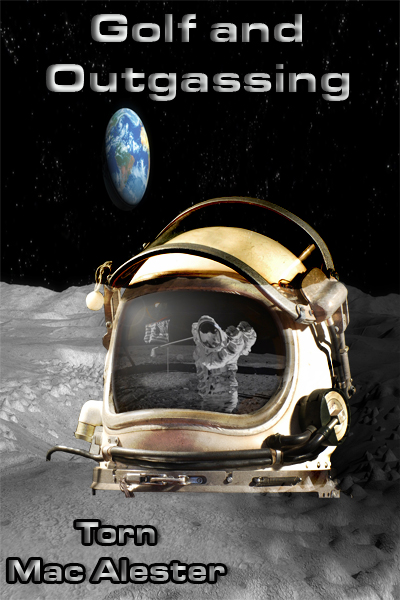 A six­ty-year-old Moon mys­tery prompts Colonel Annie Mac­turn­er to make a risky deci­sion. Intrigued by an inter­view designed to manip­u­late, Mil­ton John­son, a can­di­date that con­flicts with her high­ly dis­tin­guished mil­i­tary back­ground, is select­ed as her crew-mate. Can Annie solve the land­ing site mys­tery and unrav­el Mil­ton's enig­ma before a life-threat­en­ing col­li­sion with the past occurs? Join Annie on every bound­ing step of her jour­ney as she tra­vers­es the Lunar sur­face and keeps you on the edge of your seat!
Golf and Outgassing by Torn MacAlester
Annie Mac­In­turn­er glanced at the space-suit­ed fig­ure mov­ing toward her across the lunar sur­face. It was her rook­ie crew­mate Milt John­son. She not­ed the ease with which he moved. He had dif­fi­cul­ty mov­ing dur­ing train­ing on Earth, since his suit hin­dered him. She had fig­ured he would get his moon legs, and it pleased her to see it come true.
"Looks good," she said as he reached her posi­tion near the crawler. "We get these garbage cans set out, we'll call it a day." She referred to the fifty-gal­lon-drum-sized exper­i­ments they need­ed to unload from the six-wheeled crawler. The set­up of the exper­i­men­tal pack­ages was the goal of the first EVA. Through­out train­ing before the mis­sion, they had done the work in three or four hours. They had start­ed hour five a few min­utes ago.
"You're the boss," answered Milt in his relaxed style. She had known him for two years, since he joined the space agency. He had a rep­u­ta­tion for resource­ful­ness. He always had the most infor­ma­tion about any­thing, includ­ing rumors. He also had a know-it-all per­son­al­i­ty that grat­ed against many in the astro­naut office. Even though Milt seemed to have the answers, many times he was right. Annie was glad she gave him a chance to join her on his rook­ie flight.
"Okay, let's get after it." She grabbed one of the garbage cans. It con­tained a soil min­er­al­o­gy exper­i­ment. She grinned, tak­ing the can and knock­ing her­self off bal­ance. "What the–?"
"Prob­lem boss?" Milt asked in a tone sug­gest­ing a joke.
"Damn thing is off bal­ance." Annie real­ized that even though the weights of the exper­i­ments were much less, mov­ing their mass was dif­fi­cult. It had been affect­ing her most of the day, but this last one turned out to be worse than the others.
"Want me to take it?"
"No," she answered after a moment. "I've got it."
She strug­gled a moment, find­ing the pack­age top-heavy. She didn't recall the same being true on the sim­u­la­tor. The sim­u­la­tion team had for­got­ten some­thing when they made the train­ing item. On the moon, it only weighed thir­ty pounds, though hav­ing some mass off-cen­ter meant it car­ried sig­nif­i­cant iner­tia. Plus, it out­weighed her, mak­ing it dif­fi­cult to move. The fact she had her Earth strength to wres­tle with it made the move­ment possible.
"Have the exper­i­ment design team make a note," she stat­ed as she moved the trash-can exper­i­ment into posi­tion. "Hav­ing these things so close to our mass might not be a good idea."
"Under­stood, Mac," said the voice of her astro­naut hus­band Cy, who act­ed as the ground com­mu­ni­ca­tions. "Should we also shine 'em up for you as well?"
"Ha, ha," she answered, shov­ing the trash­can into an upright posi­tion. She pulled out the anten­na and solar array, set­ting up the exper­i­ment for sur­face activity.
They would leave the exper­i­ments much like Shep­ard and Mitchell had left behind exper­i­ments six­ty years pri­or. The dif­fer­ence was improved elec­tron­ics and solar pow­er. Here, it would pull lunar soil into a reac­tion cham­ber, using sun­light to break oxy­gen from the rocks. The exper­i­ment act­ed as a pro­to­type. It would prove that such a unit could make a two-week sup­ply of oxy­gen dur­ing a sin­gle week of oper­a­tion, pro­vid­ing in situ resource capability.
After turn­ing on the pow­er, she glanced south at the fif­teen-hun­dred-meter-dis­tant Apol­lo 14 descent stage atop a small rise. It was the part of the Apol­lo 14 lunar lan­der, Antares, left on the lunar sur­face. At first she did not see it, but the gold foil cov­er­ing part of its struc­ture revealed it. Their own lan­der, Steam­boat, sat some thir­teen hun­dred meters dis­tant from Antares.
After see­ing a green light on the garbage can, "I've got Tan­go-Char­lie-Six oper­a­tional. Do you have teleme­try?" she asked. She wait­ed for the answer, hop­ing the elec­tron­ics with­in the garbage could com­mu­ni­cate over the radio, show­ing that it was oper­at­ing correctly.
"Stand by," Cy answered after the two-sec­ond speed of light delay. Annie glanced at the TC1 trash­can sit­ting a dozen meters away, not­ing the unfurled anten­na point­ed toward the Earth. She knew that link had been estab­lished, but won­dered about the WiFi link between TC6 and TC1. If the WiFi con­nec­tion failed, she would have to reboot TC6—an easy pro­ce­dure. After a few more moments, he con­tin­ued, "Looks like Tan­go-Char­lie-Six is a go. Good work, Mac."
* * * * *
Mil­ton John­son had been one of Annie MacInturner's final choic­es for her crew. She had sat in her office, ready for the inter­view, as the man walked in, tak­ing a seat. She not­ed how he moved with con­fi­dence, not the self-con­scious­ness she expect­ed with many of the rook­ies. He sat down with no recog­ni­tion of her rank, which was not uncom­mon for civil­ians. Yet the oth­er civil­ian appli­cants remained stand­ing until she offered a seat. Being a Marine lieu­tenant colonel, she had to sup­press the demand for fol­low­ing pro­to­col when deal­ing with civilians.
"So." Annie smiled, look­ing at Milton's bio one last time before clos­ing her lap­top screen. "Mis­ter John­son–" She looked at him, not­ing the well groomed and good-look­ing young man. He held his head high and raised his right eye­brow as he listened.
"Milt, please. Mis­ter John­son is my father." Milt grinned. Annie guessed he had lit­tle use for titles. He had yet to refer to her as colonel.
Annie not­ed the lack of humor and smiled. "Milt, why do you want to be on my crew?"
"A bet­ter ques­tion would be," Milt offered, "why you would want me on your crew."
"Fine," Annie grum­bled. To her sur­prise, he lacked the awe that many younger astro­nauts had in their eyes. He looked as though the expe­ri­ence of prepar­ing for space­flight was noth­ing new to him. She not­ed that he act­ed with near arro­gance. She had already decid­ed that this atti­tude would not be a good mix for her. Annie con­tin­ued the inter­view out of fair­ness. She gave each of the oth­er can­di­dates an hour, and she opt­ed to give Milt the same amount of cour­tesy. "A fair ques­tion. Go ahead."
"First," Milt smiled, brush­ing an errant hair from his fore­head, "I am resource­ful. For exam­ple, I already know that the com­mit­tee took the Tran­quil­i­ty site off of the table. It makes sense, and I'm sure the com­mit­tee wants some­thing else besides the retrace of the first land­ing site."
"They con­sid­er that site as a his­tor­i­cal mon­u­ment," Annie answered, impressed with his imme­di­ate dis­cus­sion of the upcom­ing lunar missions.
There were a lot of thoughts and dis­cus­sions asso­ci­at­ed with the mis­sion. Some were advo­cat­ing a high val­ue, sci­ence-based mis­sion. Oth­ers want­ed a mis­sion aimed at lunar resources. The key goal of the mis­sion was to test the lunar space sys­tem, requir­ing a crew of two. They would leave the space sta­tion using a two-man cap­sule to ren­dezvous with the lan­der and a big rock­et motor to launch the stack to the moon. Upon arrival in lunar orbit, the crew would trans­fer to the lan­der and land on the sur­face for a two-day stay. Then they would ascend to the two-man cap­sule that remained in lunar orbit, using the cap­sule to return to the Earth. This mis­sion remained sim­ple: to test the sys­tems for a land­ing mission.
"It's a good idea to stay away from Tran­quil­i­ty. This mis­sion should not be a 'look, we can land on the moon' journey."
"What site would you pick?" Annie won­dered about what he might think and how well it matched her own.
"Fra Mau­ro." Milt smiled. "Of course."
"Why?" she asked, sur­prised that she had not con­sid­ered the loca­tion. She won­dered what jus­ti­fi­ca­tion he had for the choice.
"First, it's close to the equa­tor, so we won't have to stress the rock­et sys­tems on our first mis­sion by allow­ing plen­ty of margin."
"Inter­est­ing," Annie answered, intrigued by his con­sid­er­a­tion of the rock­et booster's capa­bil­i­ties. Land­ing in lunar equa­to­r­i­al regions added fuel mar­gin to the mis­sion. It showed that he had con­sid­ered and under­stood engi­neer­ing lim­its. "Go on."
"The sec­ond rea­son is that NASA seemed very inter­est­ed in the loca­tion." Milt smiled. "Did you know that it was the cho­sen land­ing site for both Apol­lo 13 and 14?"
"I didn't real­ize that," she answered, know­ing about Apol­lo 13 from the his­to­ry sur­round­ing the flight.
"At least it was for Apol­lo 13. After the acci­dent, plan­ners chose the same loca­tion for Apol­lo 14. That was the pol­i­cy at the time: use the pre­vi­ous flight plan to meet the missed mis­sion objectives."
"Oh, yes, the Apol­lo 13 acci­dent. The re-flight seems like a rea­son­able con­clu­sion. I think we've used that same par­a­digm ever since Yellowstone."
Annie looked in Milt's eyes to see how he react­ed to the men­tion of the super-volcano's erup­tion over a decade pri­or. His expres­sion showed lit­tle change. Many peo­ple lost fam­i­ly in the explo­sion's after­math. Annie had fam­i­ly mem­bers in the Mid­west whose house allowed too much vol­canic dust inside. It had wreaked hav­oc on their lungs, leav­ing them dis­abled. Milt's fam­i­ly, it seemed, escaped the tragedy of the eruption.
"I agree," Milt nod­ded. "But some inter­est­ing infor­ma­tion that I have found has made me reconsider."
"And that would be?"
"The Apol­lo 14 sur­face exper­i­ment pack­age detect­ed water vapor about a month after the landing."
"What?" Annie sat up, sur­prised to hear about the new twist for the fifty-plus-year-old mission.
"Yes, you heard cor­rect­ly." Milt smiled.
"I had nev­er heard that before."
"They had decid­ed at the time that the water vapor came from the Antares' descent mod­ule or some­thing else left by Shep­ard and Mitchell on the sur­face," Milt explained.
"I won­der." Annie felt unconvinced.
"The par­a­digm at the time was a dry moon," Mil­ton com­ment­ed. "Most of the sci­ence had water boil­ing off the sur­face and into deep space because the moon's grav­i­ty is too weak to hold any atmos­phere. It seems rea­son­able that they ignored the discovery."
"So not a detection."
"Well." Milt paused.
"And?"
"It hap­pened again in a few weeks."
"Real­ly?" Annie exclaimed. "Again."
"Yes."
"Cer­tain­ly, they didn't ignore it. Did they?"
"It con­vinced them that the water had come from some­thing left behind by the crew. There was a mod­el of seis­mic activ­i­ty out­gassing ground water. It's in some reports from the time."
Annie con­sid­ered a moment, then fig­ured it made sense that some­thing left behind could have caused the sig­na­ture. "I guess they could have been right. It makes sense."
"But that brings up my fourth rea­son for going to Fra Mauro."
"Which is?"
"Let me revise that. It's still part of my third reason."
"Fine."
"I can­not find a ref­er­ence for any such detec­tion in the data asso­ci­at­ed with any of the oth­er exper­i­ment sys­tems left at the oth­er land­ing sites."
"So?"
"Fra Mau­ro is dif­fer­ent. It's either some­thing that the Apol­lo 14 crew left behind, or it's part of the region." Milt low­ered his voice. "The answer to that ques­tion is only at Fra Mauro."
"What else?" Annie asked, sens­ing there was more.
"One of the ear­li­est moon­quakes detect­ed by sur­face seismographs–"
"Let me guess." Annie grinned. "Fra Mauro."
"Yes."
Annie real­ized that she had mis­tak­en Milton's con­fi­dence as arro­gance. He seemed to have a knack for mak­ing a clear case for a mis­sion. It had been bet­ter than any of the pro­pos­als she had lis­tened to from the mis­sion sci­ence team. Milt had earned a job in Annie's eyes, and he had deter­mined the mis­sion she would advocate—a return to Fra Mauro.
* * *
Annie drove the crawler up to the Apol­lo Lunar Sci­ence Exper­i­ments Pack­age, ALSEP, loca­tion along its north­ern side. She stopped the crawler short, avoid­ing the foot­prints left behind by the Apol­lo 14 crew. She had promised every­one that their mis­sion would do the small­est amount of dis­tur­bance to the land­ing site. It was the price for their coop­er­a­tion to retrieve the Suprather­mal Ion Detec­tor Exper­i­ment, SIDE. The instru­ment had made the water detec­tion, and the sci­ence team want­ed it.
From the van­tage point, she could see the SIDE exper­i­ment about twen­ty meters beyond the cen­tral sta­tion. To their left, two hun­dred meters dis­tant, was the Antares descent stage. Link­ing the Antares and the ALSEP cen­tral sta­tion was a mass of foot­prints. Though over fifty years old, the foot­prints looked as fresh as the day they were made.
The cen­tral sta­tion was a col­lec­tion of box­es of var­i­ous sizes. One sport­ed an anten­na point­ed toward Earth. Anoth­er had radi­a­tor fins, show­ing that it was like­ly the pow­er sup­ply. One looked like a box tilt­ed on an angle by two frag­ile legs. Anoth­er was a sim­ple box cov­ered in gold foil.
"Arrival at ALSEP," she stat­ed, glanc­ing over at Milt occu­py­ing the right seat in the pres­sur­ized crawler. Both of them had worn their suits but stored their hel­mets in the vehi­cle's rear at the air­lock. EVA two would use the crawler to move between loca­tions. They col­lect­ed most sam­ples using robot­ic arms con­trol­lable from inside the crawler. Should the need arise, they could put on their hel­mets and go out­side to col­lect samples.
"Looks like our esti­mate of foot traf­fic is correct—walked this area a lot," Milt observed.
"–copy–" inter­rupt­ed ground control.
"I guess right is the way," Annie played with the words. She turned the crawler toward the east. The crawler par­al­leled the tracks. She drove toward the east­ern­most exper­i­ment in the ALSEP con­fig­u­ra­tion, the Laser Rang­ing Retrore­flec­tor. It was only about three dozen meters dis­tant, mak­ing the jour­ney quick in the crawler.
"Yes," Milt answered. "We need to go around the LRR and then south, past the end of the geophones."
"Roger that." Annie drove the crawler, see­ing the LRR about twen­ty-five meters dis­tant, near a small crater to its south. The scale shift from see­ing a small exper­i­ment sit­ting next to a crater made both seem far­ther away than they were. She still found it amaz­ing to find craters less than a few meters wide. As she drove, she could see the foot­prints end past the loca­tion of the LRR. "It looks like they didn't go much far­ther than the loca­tion they chose for the LRR."
"Yeah," Milt answered. "Looks like they put it down and went back to their work."
"I didn't see a sign of the geo­phones as I drove by. Did you see 'em?"
"I caught a glimpse." Milt had turned back to her as she asked. "There was a set of tracks head­ing off that direc­tion. I may have seen glints from the met­al." The geo­phones stretched about a hun­dred meters toward the south. The Apol­lo 14 tracks would have been along its length.
Annie round­ed the LRR and turned the crawler south, avoid­ing the small crater as she drove. It looked like there were no foot­prints, so she con­tin­ued until they had trav­eled about a hun­dred meters. She glanced to the left, look­ing for the geo­phones and the tell­tale tracks in the moon dust. From her van­tage, she saw the Antares descent stage from anoth­er per­spec­tive that revealed the rungs of the descent lad­der. "Con­trol, I don't see the geophones."
"Copy," cracked over the speakers.
"Where the hell are they?" Annie asked no one in particular.
"I'm think­ing we are south and west of them. That five-meter crater over there," Milt said, point­ing ahead of them to the right.
"Yes?"
"It appears to be fair­ly shal­low. I'm guess­ing that it's this crater here," Milt said, point­ing to the map dis­play on the dash­board. If he was right, the crawler was about thir­ty meters south and west of the end of the geophones.
Annie turned the crawler toward the west, then north. "It will be nice once we get the GPS sys­tem extend­ed to the moon," she said offhand­ed­ly as she drove. She slammed on the breaks, see­ing a set of boot prints cross­ing their intend­ed path.
She saw Milt touch the VOX switch, ensur­ing ground con­trol could not hear them. "This shouldn't be here."
"What do you mean?" Annie felt con­fused, not sure why Mil­ton saw fit to dis­con­nect them from dis­cus­sions with ground control.
"It looks like a cir­cum­nav­i­ga­tion of the land­ing site." Milt had a pen­sive look on his face, as though he were about to say something.
"What?" she snapped, as though she was giv­ing an order.
"Oh, it's nothing."
Annie felt irri­tat­ed. Milt with­held infor­ma­tion, even when being help­ful. "Tell me what you have to say."
"If this is true, we can­not approach the SIDE with­out cross­ing this set of tracks."
"Obvi­ous­ly," Annie barked.
"I have two alter­na­tives." Milt smirked.
"They are?"
"Dri­ve over the path like we did not see it."
Annie con­sid­ered a moment. "I don't think I like that option. The other?"
"Let's walk over there and get it."
"You're kid­ding."
"No." Milt stat­ed. She noticed no hint of humor in his features.
Annie assem­bled her thoughts but cov­ered her own think­ing by ask­ing ques­tions. She had learned to do so while in col­lege. It allowed her to think while hav­ing some­one answer her ques­tions. "What do we gain by using your first option?"
"It will allow us to con­tin­ue with our exist­ing plan," Milt start­ed. "We roll through and use the robot arm and snag the SIDE. After­ward, we back out the way we came."
"Any­thing else?"
"This is your deci­sion," Milt stated.
"What do you mean?"
"Exact­ly what I said," Milt con­tin­ued. "You have the ulti­mate author­i­ty for the mission."
"So, want me to assert my authority?"
"I'm not advo­cat­ing any posi­tion. I am stat­ing that you have the author­i­ty." Milt looked out of the crawler upon the lunar sur­face. After a moment, she saw him grin for a moment and turn back to her. "It's a long way. We should get what we came for."
Annie thought, He is right. It's my choice. But it wasn't a choice between action or inac­tion. It was a choice between two dif­fer­ent actions. Oth­ers would like­ly find either action unde­sir­able. Some might ques­tion her author­i­ty in the sit­u­a­tion. She wished Cy were avail­able to talk about it. Yet she knew his answer. "We'll dri­ve on," she stated.
"Are you sure?" he asked.
"Yes. It's obvi­ous we need to get what we came for. The way we do that is by get­ting robot­ics to the SIDE loca­tion. With­out the crawler, we'd destroy more boot prints. If our goal is to keep this site as pris­tine as pos­si­ble, then this is the way to do it." Annie start­ed dri­ving. "Turn the VOX back on."
She saw him move at the cor­ner of her eye as she drove. "Roger."
"Con­trol, we're mov­ing on," she said.
"Copy," answered ground con­trol. "Mov­ing on."
****
Annie heard Milt emerge from the air­lock and shut the door, prepar­ing to store the retrieved SIDE on the crawler. The crawler lurched a bit from him step­ping off of the back.
They had eas­i­ly picked up the exper­i­ment from the sur­face and cut its cables using the robot­ic arm. The last effort would be to grap­ple the exper­i­ment and haul it over to the crawler.
"Boss," said Mil­ton over the radio. "I found something."
Annie looked at the viewscreen, try­ing to dis­cern the object that Milt had found. She thought it appeared to be a rock. Attempt­ing to adjust the con­trast, she asked, "What is it?"
"I've found one of the golf balls."
"What?"
"One of Al Shepard's golf balls is lying right here. It's deformed, it's dis­col­ored, and it looks like a rock. But it's one of the golf balls. I rec­og­nize the dim­ples. We must have dis­lodged it from the dust as we rolled over it."
"I didn't expect to have found one."
"Nei­ther did I," Milt answered. "We should ask Smith­son­ian if we should retrieve it."
"Copy," Annie answered. "Let me know when you are ready for me to move the SIDE over to you."
"Give me a sec­ond to get the crate unhitched from the side."
From the mon­i­tor, Annie could see Milt fight­ing with some­thing. In the high con­trast, she sur­mised that he could not see, giv­en that the crate was in a deep shad­ow. She still had some dif­fi­cul­ty her­self. With­out the ben­e­fit of atmos­pher­ic refrac­tion, the shad­ows became impos­si­bly deep. She knew Milt would need some time to work out a solu­tion. "Roger."
"Okay, boss," Milt final­ly answered after a bunch of grunt­ing and heavy breath­ing. "I've got the crate ready."
Annie adjust­ed the robot­ics con­trols, lift­ing the SIDE from the lunar sur­face. At first, she thought it might be lost as it slid in the robot­'s grip, but it did not con­tin­ue slip­ping. Care­ful­ly, she swung the arm away from the cut wires and over toward the crawler and the wait­ing Milt. The arc pro­gressed frus­trat­ing­ly slow­ly, mak­ing her palms sweat as she worked the con­trols. Anoth­er deface­ment of the Fra Mau­ro land­ing site would not be explained away. She had crossed the line of tracks. Any more dam­age would ampli­fy that choice. Every sec­ond, she thought it would slip out of the grasp of the robot arm.
Feel­ing it might last for­ev­er, she watched as Milt reached up and col­lect­ed the SIDE into his hands.
"SIDE recov­ered," she sighed.
A long delay final­ly pro­duced an answer from ground con­trol: "Copy. SIDE retrieved."
* * *
Annie had looked on as Milt and his back­up, Nils Carmike, had con­sid­ered the image of Cone Crater on the pad sit­ting between them on the table. The lunar sci­ence team had stepped out, giv­ing the crew a chance to pour over the data.
Annie had insist­ed that the team choose its own sci­en­tif­ic goals, since they would car­ry them out on the moon. She made her case to the sci­ence board when she pre­sent­ed the case for Fra Mau­ro. She com­pro­mised on a solu­tion that had them mak­ing the rec­om­men­da­tions as long as the crew had the final choice. Her case was helped because she insist­ed on doing some sur­face sci­ence on the moon, some­thing mis­sion man­agers had placed in a low pri­or­i­ty. To their think­ing, prov­ing the lunar trans­port sys­tem was the only goal of the mis­sion. Annie dis­agreed based on Milt's rec­om­men­da­tions about Fra Mauro.
In the orig­i­nal mis­sion to Fra Mau­ro, get­ting a sam­ple from the inte­ri­or of Cone Crater had been one objec­tive for Apol­lo 14. Cone Crater was a deep crater, reveal­ing the com­po­si­tion of the bedrock beneath the land­ing site. Shep­ard and Mitchell intend­ed to get a sam­ple from inside Cone's rim. The dif­fi­cul­ty ascend­ing the Cone Crater hill­side had left Shep­ard and Mitchell exhaust­ed. Their final posi­tion was shy of the rim when time con­straints forced them to return to Antares. Nils sug­gest­ed that they should make a trip to Cone Crater a top pri­or­i­ty, they had tak­en even though sim­i­lar sam­ples on lat­er Apol­lo missions.
Mil­ton had lift­ed the pad and had stat­ed, "Nils, there is no way that smudge is any­thing significant."
Nils had looked to Annie and to her hus­band, Cy, her back­up for the expe­di­tion. Nils had been not sleep­ing over the past few weeks, mak­ing his thin build look gaunt. Annie had asked the flight sur­geon to ensure Nils could fly, should Milt be unable. Nils seemed uncon­cerned about it, attribut­ing it to habits of study in college—the sur­geon agreed.
Nils turned back to Milt and almost shout­ed, "I've checked with the image analy­sis folks on this. There's a good chance there is a sky­light cave there."
"A sky­light," Cy said thoughtfully.
Annie glanced at him, know­ing that he real­ly was not pay­ing atten­tion. She spot­ted him using the tech­nique short­ly after they had met. He had been watch­ing foot­ball, and she remem­bered ask­ing him a ques­tion. After each sen­tence she had uttered, Cy had repeat­ed a few words from the sen­tence in a thought­ful tone but nev­er answered. After a while, she fig­ured it out; Cy was pre­oc­cu­pied, but tried his best to sound engaged in what she had been say­ing. Now Cy seemed to be con­cerned about some­thing else at the moment. Annie focused on the con­ver­sa­tion, know­ing that she might have to brief Cy at anoth­er time.
"Yes," Nils answered. "It's possible."
"Maybe," Milt said in an uncon­vinced tone.
"Nils," Annie inter­ject­ed, feel­ing that they were avoid­ing key infor­ma­tion, "it would be use­ful if you pre­sent­ed the evidence."
"Oh, yes." A ner­vous smile played over Nils's face. "If you look at the series of pho­tographs from the Apol­lo era, we can see that there seems to be a shad­ow that per­sists regard­less of sun angle."
"It's a rock," said Milt.
"A rock," said Cy, seem­ing to agree.
"But the laser altime­ter read­ings show a flat or dim­pled region where you think there is a rock," Nils added.
"So a depres­sion is in near-per­ma­nent shad­ow?" Annie questioned.
"Yes." Nils rubbed his head. "I believe so."
"How deep?" Annie asked, glanc­ing at Milt, who looked on with interest.
"At least three meters below the crater floor," Nils answered. "If it is a sky­light, it would be a sig­nif­i­cant find. A cave under Cone Crater could be a loca­tion for poten­tial lunar water to col­lect. It would be per­ma­nent­ly out of the sun­light mak­ing it frigged."
"Cone Crater is a recent impact," Milt offered, glanc­ing to Annie.
"Mil­lions of years old, if you mean recent," offered Nils.
As opposed to the sev­er­al-bil­lion-year age that described most of the lunar craters, Annie thought.
"Sounds like you are becom­ing con­vinced." Cy turned to Milt, rais­ing an eye­brow. Annie noticed that Cy had recon­nect­ed to the conversation.
"Yes," Milt answered.
"Then it would be a good addi­tion to the mis­sion plan," Cy stat­ed. "It will take up an EVA by itself."
"What do we have now?" Annie asked, look­ing at Milt.
"EVA one, deploy exper­i­ment pack­ages and pre­lim­i­nary geol­o­gy tra­verse. EVA two, recov­er BEAM from ALSEP and pri­ma­ry geol­o­gy tra­verse," Mil­ton answered.
"There is always a con­tin­gency EVA," Nils added.
"Com­mand con­tin­gency," Cy cor­rect­ed. "It's for us to com­plete tasks from pre­vi­ous EVAs."
"I under­stand." Nils nod­ded. "I'm think­ing you could put that as a con­tin­gency option, if we have all tasks completed."
"The front office ain't going to like that," Cy men­tioned, "even though it's a great idea."
"Let me wor­ry about the front office," Annie stat­ed in a mat­ter-of-fact tone.
"Still, we already have an aggres­sive mis­sion," Cy offered. "The point was to make sure all the sys­tem works for the future missions."
"Yes," Nils agreed. "But we need to get along with phase two, fast."
"We have a lot of engi­neer­ing to do before phase two," Milt replied.
"This will prove the sys­tem," Nils countered.
"Guys," Annie inter­rupt­ed. "Lis­ten. I don't care about all that. I need a case for the science."
"Agreed," Cy added.
"If I have a good rea­son to climb down to the bot­tom of that crater, I'll add it to the mis­sion. Make it good."
"There is one," Nils stated.
"You must prove it," Annie replied. "I'm think­ing the mis­sion sci­en­tist will want to weigh in."
"You can't mean that!" Cy exclaimed.
"Why not?" Annie had coun­tered. "I must answer to the flight direc­tor. It's the same difference."
"Fair enough," answered Cy.
"Nils," Annie looked at him. "What do you think is the rea­son for tak­ing that risk?"
"I think there is ice in that sky­light cave."
"What?" Milt spat.
"You're kid­ding," Cy said.
"Hold on, you two." Annie held up her hand. "Let Nils fin­ish speaking."
"Thank you, ma'am. The clues are all there. There was a detec­tion that hap­pened twice on the SIDE instru­ment that some thought was water. We have evi­dence of seis­mic activ­i­ty. And we have a sky­light. The ice could be in the cave, and sun­light warms it enough to have a slight out­gassing of water vapor. The SIDE detect­ed it."
"Wow," Annie said.
"The only thing we need is sam­ples from with­in that crater," Nils con­tin­ued. "Shep­ard and Mitchell were exhaust­ed by the time they were near the rim. If they had continued…"
"And we won't be exhaust­ed," added Milt. "We can dri­ve up there with the crawler and let a rover go down. They had to do it on foot while car­ry­ing a sur­vey cart."
"Impres­sive," Annie had remarked, real­iz­ing that the team had come through. She would make a case for Cone Crater.
* * * * *
Annie watched from the seat in the crawler, watch­ing the robot­ic rover descend into Cone Crater. The slope from the west­ern side seemed easy to nav­i­gate. The robot descend­ed, spool­ing behind it a cable con­nect­ing it to the crawler. She glanced at Milt work­ing the con­trols from his seat in the crawler. From their van­tage, she could see their tracks that approached from the south along the rim. Once in posi­tion, they deployed the robot­ic rover using the crawler's robot arm. It gave them an advan­tage to set down to the bot­tom of the first cliff instead of dri­ving around it. From that spot, the robot­ic rover could move toward the sus­pect­ed skylight.
"It looks like we are mak­ing progress," Milt said.
The crawler had tra­versed to the Cone Crater along the north­west­ern side of the Fra Mau­ro land­ing site. Shep­ard and Mitchell had only explored the south­ern edge. It kept them clear of any more poten­tial dam­age to the Apol­lo 14 land­ing site.
"Yes," Annie answered, see­ing the shad­ow grow­ing larg­er in the monitor.
"Only a few more feet." Milt con­cen­trat­ed as the mon­i­tor showed the vehi­cle had come to a halt.
"That's it." Annie smiled in tri­umph. It had vin­di­cat­ed her argu­ments for the com­mand con­tin­gency. They now had a close view of the sky­light at the bot­tom of Cone Crater.
The mis­sion sci­en­tist had been easy to con­vince, and she was glad she attempt­ed to con­vince her first. She han­dled the dis­cus­sions with the mis­sion man­ag­er and the flight direc­tor, which had con­tin­ued for weeks before launch. After six frus­trat­ing meet­ings, she got the approval to exer­cise the com­mand con­tin­gency to per­form anoth­er moonwalk.
"Let's get those lights on and look."
Through the mon­i­tor, it became clear the dark­ness seen in images resolved to a sky­light at this close range. It was hard to guess how deep. Except for an out­line of the hole, the lights end­ed in darkness.
"It looks like what we came for," Milt had said.
After descend­ing about a quar­ter of the way down the inner slopes of Cone Crater, "Mac, this is Con­trol," crack­led over Annie's headset.
She rec­og­nized Cy's voice but knew there was an extreme urgency to it. She knew some­thing was wrong before she answered, "This is Mac. Go, Control."
"We have a crit­i­cal sit­u­a­tion. You must shut down all pow­er and evac Fra Mau­ro land­ing site. Radio silence from acknowl­edge until three zero sec­onds after liftoff. Acknowledge."
"Copy. Out." Annie shut down her radio. She moved over to Milt. She could see by the exter­nal pan­el that he had shut down his suit radio. She moved in close and touched him, hel­met to hel­met. "Can you hear me, Milt?"
"Yeah, I hear you," Milt answered, then asked, "What the hell is going on?"
"I don't know," Annie answered. "Some­thing has scared the hell out of them, and they want us the hell out of here, now."
"Yeah, but what?"
"Some­thing is unsafe here. We need to go," Annie spec­u­lat­ed and con­clud­ed in an instant.
"Okay."
Steam­boat was almost two kilo­me­ters west of their present posi­tion inside of Cone Crater. They would need to tra­verse the dis­tance on foot. Luck­i­ly, they were well with­in their walk-back cir­cle of oxy­gen. Annie con­sid­ered a moment that it would be faster to use the crawler to head back, but she also con­sid­ered the instruc­tions to shut down all pow­er. It meant that the pow­er of the equip­ment caused the evac­u­a­tion. Annie real­ized that they trad­ed time ver­sus dan­ger. Though they need­ed to leave, she opt­ed that she could risk being there longer by remov­ing the risk from the power.
They climbed out of the crater, using the cables strung down from the crawler on the west­ern limb. Upon reach­ing the top, she turned to see Mil­ton had fol­lowed her out of the crater. As soon as he reached the top, she moved to touch hel­mets again.
"I've thought about it on the way up," she said. "Shut down the pow­er to the crawler. Then we walk back out."
"Agreed," answered Milt. "I'll know in a second."
"Let's be as quick as we can. Is there any­thing we can­not afford to leave?" She looked to the rim of Cone Crater.
"I'll look around just in case. But I don't think so."
Annie looked around outside.
"Milt," she said, mak­ing hel­met con­tact again.
"Yeah?"
"How much of Steam­boat needs to be shut down?"
"Some," he answered. "It acts as our comms relay."
"Shut it down," she said.
"That will mean–"
"–yes, it will mean that they can­not com­mu­ni­cate with us."
"Yeah," Milt answered. "They want­ed it that way."
"Let's get it shut down, then." Annie looked at her watch. "We should be able to make Steam­boat with­in forty-five minutes."
"Three clicks," Milt agreed. "Easy."
"Okay." Annie looked through the sam­ples and the sup­plies, look­ing for any­thing that they need­ed to take. The rocks weren't from inside of Cone Crater, so they like­ly rep­re­sent­ed the scat­ter for the site. She real­ized that, while Milt shut down pow­er for the lan­der, she could col­lect a sam­ple from inside of the crater rim.
She ran to the rim, stepped into the crater. She bent down and grabbed a rock, like­ly a basalt, threw it into the sam­ple bag. She hoped it would be enough, but took anoth­er small­er rock, a brec­cia, and a hand­ful of soil and put it all in the same bag.
Annie hoped she made a good choice of rocks and soil. The bag would be the only sam­ple from inside Cone Crater—complementing the sam­ple from the near the oppo­site rim tak­en in 1971.
She stared down to the crater, see­ing the sky­light lit by the rover lights. Annie hoped that it wouldn't be anoth­er half-cen­tu­ry before some­one got a look inside.
The lights shut down, leav­ing the dis­cov­ery in dark­ness cast by the rim of the crater.
Annie turned and ran back to the crawler as Milt exit­ed. She ran up and touched hel­mets. "I col­lect­ed a con­tin­gency from the crater."
"Steam­boat and the crawler are shut down."
"Okay, let's go," Annie said. "I'll lead."
"I'll be right behind you."
Annie turned and start­ed mov­ing across the lunar sur­face, mov­ing at a delib­er­ate pace along the crawler tracks, back toward the lan­der. Before the mis­sion, the plan had pre­vent­ed Annie and Milt from dis­turb­ing the Apol­lo 14 land­ing site.
Annie kept mov­ing, know­ing that she could not see the lan­der after descend­ing the slope away from Cone Crater. There was a small rise that would obscure it. She not­ed that the lan­der had dis­ap­peared from view as they descend­ed Cone Crater's rim. She had a good idea where the lan­der should be and used the ter­rain to max­i­mize her speed.
Most of the dis­tance required her to move around small­er craters, though some she could run right through. She also need­ed to avoid rocks, forc­ing her to change direc­tions often. She won­dered from time to time if she had been mak­ing a fair­ly straight path toward a loca­tion where she could see the lan­der again. She hat­ed rely­ing on her own nav­i­ga­tion, but the hom­ing sig­nal from the lan­der had been shut down. It wor­ried her that the clus­ter of rocks and craters she was head­ing toward might be in the wrong direction.
She breathed heav­i­ly, some­what fog­ging her hel­met. Luck­i­ly, the sun was not direct­ly impact­ing her line of sight, or the com­bi­na­tion would have made it even more dif­fi­cult to nav­i­gate. On her own and using her feet seemed an odd way for a pilot to make a jour­ney. At that moment, she wished she could have quick­ly flown the dis­tance, since her mus­cles hurt enough.
She pushed onward, hop­ing she had not drift­ed toward either the north or the south. Nei­ther were bad for get­ting lost. The path to the north includ­ed the tracks of the crawler. To the south, she was bound to reach the path of the crawler used to retrieve the SIDE. Either way, the path would enable her to nav­i­gate to Steam­boat. She silent­ly hoped the mid­dle path she chose would be the fastest.
To her relief, she saw Steam­boat again. She saw its upper struc­ture, the ascent mod­ule glint­ing in the sun­light. The exhaus­tion she felt sur­prised Annie. If forced her to stop and gave her a moment to pause and look back to keep track of Milton's progress.
She turned to find him gone.
Real­iz­ing that she had not set eyes on him for about ten min­utes, she began walk­ing back toward Cone Crater. He could have fall­en and bro­ken his visor. Such a dis­as­ter would be impos­si­ble to fix, but she need­ed to know his fate before leav­ing the moon. She upped her pace a bit, keep­ing a close eye on the rocks, hop­ing one of them was not space-suit shaped. She quick­ened her pace, resolved to find out what had hap­pened to him.
As she round­ed a boul­der, she saw him on the oth­er side, lean­ing against it. She ran up to him, touch­ing helmets.
"What's wrong?" she asked.
"I turned an ankle," answered Milt. "I took a bad step about a half kilo­me­ter back."
"Sor­ry," she apol­o­gized. "I made a dumb mis­take. We should have stayed together."
"It's not a prob­lem," Milt com­ment­ed. "I had no visions of you leav­ing with­out me."
"Still," Annie answered, pulling Milt's arm over her shoul­der and act­ing as a crutch to keep him moving.
It slowed their pace, but not as bad as she feared. Milt was not as heavy as she first expect­ed, using his Earth weight as a mea­sure. It was far eas­i­er to sup­port him and keep mov­ing. She need­ed to be cau­tious about his mass, but they were going slow­ly enough.
After anoth­er twen­ty min­utes, they arrived at the lunar lan­der Steam­boat. Annie watched as Milt ascend­ed the lad­der with­out dif­fi­cul­ty. As he ascend­ed, she did a last look for any­thing use­ful. She saw an unusu­al rock and grabbed it in her hand. Who knows if this might be worth it, she thought. She ascend­ed the lad­der and shut the door and began the pow­er-up. Annie hoped that what­ev­er had been respon­si­ble for them hav­ing to pow­er down would not affect the pow­er-up. Assum­ing that the pow­er-down had some­thing to do with radio com­mu­ni­ca­tions, she ensured that all radio and radar trans­mis­sions were off.
She used a con­tin­gency tra­jec­to­ry so she could fly it man­u­al­ly. Fir­ing the engines, she guid­ed the mod­ule toward lunar orbit. After a hun­dred kilo­me­ters of dis­tance, "Okay, that's a hun­dred. Get the radar and the S‑band back online."
"I've got it," said Milt.
"Let's see what con­trol has to say about this fias­co." She touched the VOX switch and spoke. "Con­trol, this is Steam­boat, over."
"Steam­boat, loud and clear." Cy sighed as he answered. "We had the teleme­try feeds lock in a sec­ond ago. You look good, Mac, right down the con­tin­gency course."
"Why the pow­er shut­down and sud­den departure?"
"We dis­cov­ered that the mor­tars for the active seis­mo­graph exper­i­ment were nev­er fired on the ALSEP. You had live rounds point­ing toward your land­ing site. We had no way of telling if they were explo­sive rounds or not."
"Good catch," Milt answered.
"Yes," Annie added.
"I'm glad we got you out of there," Cy replied.
"One ques­tion," Annie stated.
"Yes?" asked Cy.
"Who's buy­ing?"
* * * * * *
Annie looked from the win­dow of her hab toward the north­west and Fra Mau­ro, think­ing to her­self. It had been decades since she and Mil­ton John­son had evac­u­at­ed the land­ing site. Cy and her home sat about forty kilo­me­ters from Mitchell Town.
"Think­ing about the mis­sion again?" Cy asked as he hand­ed her a coffee.
"How could you tell?"
"There aren't many times you stare out that win­dow with­out the sub­ject com­ing up."
"What the hell hap­pened?" she asked, still try­ing to fig­ure out the chain of events that led to the evac­u­a­tion of Fra Mau­ro. No one had ever said any­thing direct­ly, but she always felt she had the stig­ma of a failed mission.
"The best I can fig­ure is that Nils and Milt didn't do their home­work about the active seis­mog­ra­phy experiment."
"That's the offi­cial line," Annie grum­bled. "They over­looked a mor­tar, goddamnit!"
"Mac," Cy soothed, "take it easy."
"And it was point­ing at our ride home."
"What do you expect, colonel? They are civilians."
"True." She stared at her cof­fee. "It still makes me won­der, espe­cial­ly after what we discovered."
"Oh, you mean our unof­fi­cial expe­di­tion to Fra Mau­ro." Cy made quotes with his cof­fee-free hand.
"Yeah," Annie looked to him. "Do you suppose?"
"If you were still on speak­ing terms with Mil­ton, you could ask him." Cy took anoth­er sip of cof­fee. "I need some help with the har­vest. Can you give me a hand?"
"Sure," she smiled. "I'll be right there."
End